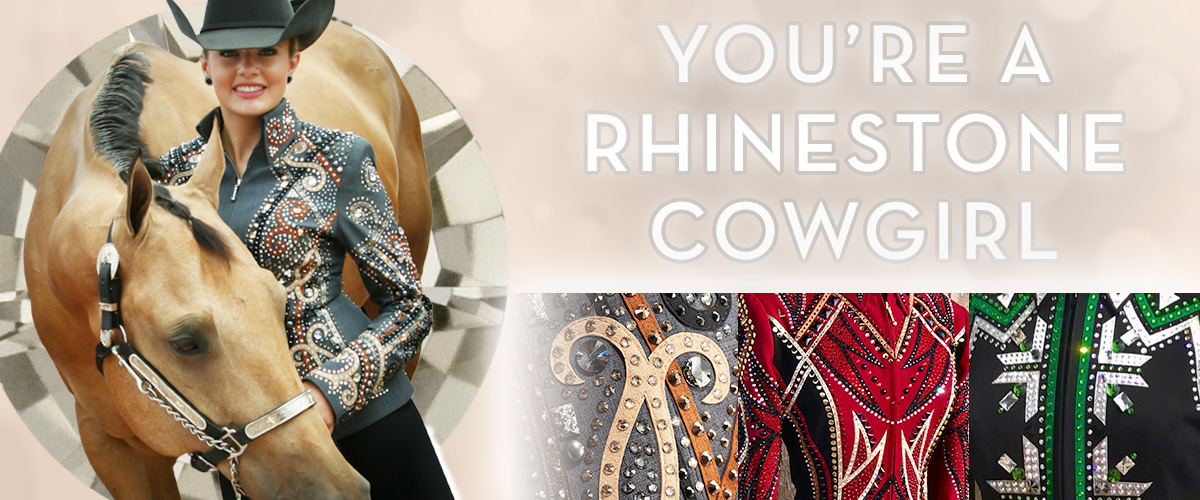 Rhinestones for Western Wear and Tack
Rhinestone Cowgirl
Equestrian performers are athletes and artists, and the right equestrian wear is essential for you to show confidently with your horse. Personalize your show apparel or tack with embellishments, trim, and - of course - rhinestones.
"Do we borrow the light? Or is it the light that finds in you, the performing athlete, the perfect vehicle? Fluid, graceful, practiced, precise, moving within a routine yet feeling the freedom to improvise. As the light shines down upon you, will you conduct the crystal's brilliance or become it?"
-Markus Langes-Swarovski, Member of the Swarovski Executive Board
Custom show apparel and tack reflect horse and rider brilliance in the arena. Our quality rhinestones, crystals, and embellishments can enhance:
Cuffs and collars

Western show jackets

Rhinestone boots

Rhinestone belts
Rhinestones Unlimited has a stunning selection of professional-quality crystals and the tools needed for your next rhinestone cowgirl or cowboy creation.
Superior Sparkle and Shimmer
Catch the judges' eye with rhinestones on Western wear that sparkles and complements your performance. Rhinestones Unlimited offers the best in brilliance with reliable, quality crystals for every budget, including:
SHOP BY COLOR to find crystals that complement any custom western show apparel.
Swarovski Crystals are no longer available for western show and tack apparel due to the Swarovski 2020 Corporate Re-structuring. LEARN MORE
Western Show Apparel
Performances come alive as riders move with turquoise cabachons, metal nailheads, large sew on jewels, metal set rhinestones, and rhinestone appliques that capture light and showcase color.
At Rhinestones Unlimited, we research crystal design and engineering to bring you the highest quality crystal rhinestone embellishments and jewelry. Search by style and color through our extensive, curated selections. Our ample selection makes finding the right sparkle for your Western wear easy.
Equestrian Accessories
Performance jewelry that shines and shimmers in the arena accentuates the latest fashions. Customize your accessories, or choose from our stunning Starlight Performance Jewelry made for movement and the spotlight.
Professional Value in a Culture of Care
Rhinestones Unlimited specialized services support the creation of your equestrian competition clothing while bringing something new and innovative to sparkle under the arena lights. We offer a price match promise, so you can be confident you receive the best value.
Our specialized tools and adhesives attach embellishments to any material, including:
Leather

Synthetic ultra-suede

Woven fabrics
Inspired Equestrian Wear
Our dynamic product line is made for you! Feel confident while showcasing all the current -and timeless - western wear fashion trends. Whether it's rhinestone cowboy boots or crystal horse tack, we're here to make it happen in the arena.
In partnership with Swarovski we worked with Liz Workland of Dry Creek Designs on two beautiful show jackets.
Swarovski pearls, matrix, and pearls in this Swarovski western jacket design

2014

Swarovski lacquer and shimmer colors in this Farewell Jacket by Dry Creek Designs 2020
Sparkle Up Your Western Wear
Whether you are a rider, trainer, or designer, we are here to help you succeed. Use our YouTube tutorials and blog for personalized advice, from the design process to selecting the best tools for your equestrian wear project!
With our high-quality product line, accessible wholesale pricing, and superior customer care, we aim to help every performer sparkle and shine in the spotlight.