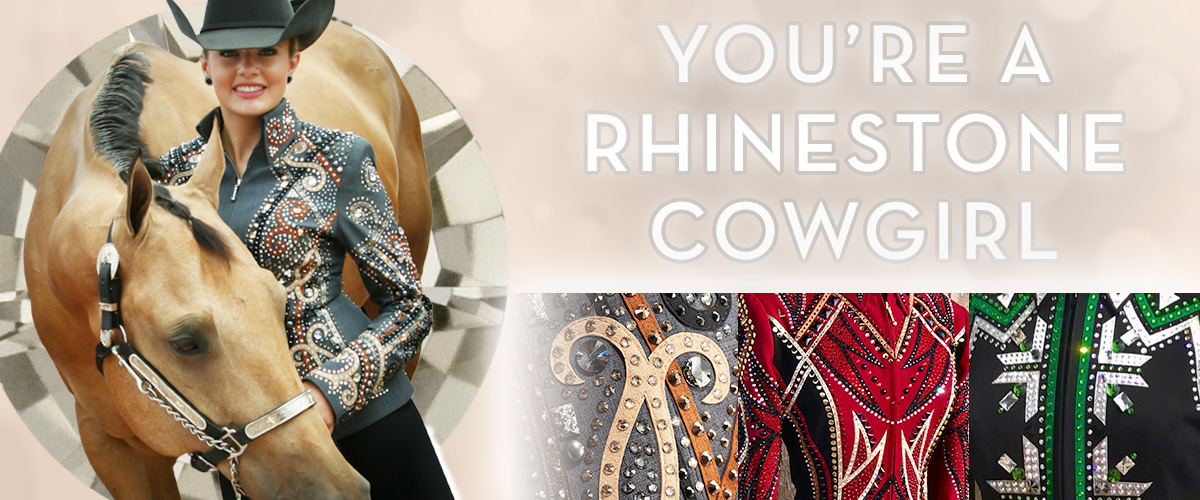 "It's a lifelong passion, an addiction. What we do is
all
we do." Liz Workland, Custom show clothier
Performance is the culmination of pursuit and passion. It takes discipline, it takes sacrifice, it takes failure, it takes time. To deliver a performance you're proud of takes true dedication; when it's finally time to shine, you want to be brilliant.
"Do we borrow the light? Or does it borrow us to conduct its brilliance? In expressing ourselves at the highest level, we seek to harness the light, to let it move with us and through us. Bending and refracting, irradiating blue then yellow, subtlety changing color, mirroring then transporting radiance." Swarovski; All Eyes on You, Celebrating Athletes in the Spotlight
Rhinestones can add flair to Western wear, show off your show horse and add polish to an English style equestrian. But, at Rhinestones Unlimited, we're more than just glitter and gold.
We're artists, too. We're athletes. We're movers and shakers, pursuing that moment of balance when we can exhale and our entire being is in sync. When that which we sense instinctively becomes the movement our muscles have trained for: "Light." Turn. "Earth." Run. "Wind." Fly. To find it in ourselves. To find it with another. Wordlessly. A silent language of contact and perception.
"When people have horses, they are passionate about them. You're born with that passion. It's not acquired." Liz Workland
We perform as the goal to push ourselves to get to this place, and to challenge the boundaries, and to give back to the people who helped us get there.
What we wear in those moments is an expression of our own story and the history of the community that supports us. Will your costume tell of the obstacles you jumped or the messes you cleaned up, or will it tell of the moments you triumphed?
"Or is it the light that finds in you, the performing athlete, the perfect vehicle? Fluid, graceful, practiced, precise, moving within a routine yet feeling the freedom to improvise. As the light shines down upon you, will you conduct the crystal's brilliance, or become it?" Swarovski; All Eyes on You
Read More of Swarovski® "All Eyes on You" and make sure to check out the Rhinestones Unlimited feature dance costume and accessories on p. 58-60. Swarovsk®i honors our commitment to support artists and bring top quality costume trimmings to designers and performers around the world.
YOU WERE BORN TO STAND OUT!
Over 20 years, we've earned our reputation for excellence by relentlessly pursuing the most durable, most advanced, most luminous crystal components for the performer at every level. If you're looking to show in crystal rhinestones and unique embellishments, look to us for endless inspiration between the highest qualities of wholesale rhinestones and crystals available to highlight your every move: Swarovski® crystals, LUX Austrian Crystal™, Preciosa® crystals, and Priceless Crystal™.
Our selection of crystal accessories – rhinestone jewelry and appliques – complements your look:
Ovation Performance Jewelry & Accessories - Ovation Appliques, Ovation Crystal Rock Jewelry & Ovation Marquis Collection

Starlight Performance Jewelry - A collection of crystal jewelry made for movement and the spotlight

Little Star CPSIA Children's Compliant Jewelry - CPSIA compliant jewelry packaged and sized for children age 12 and under
We have everything you need to create your custom pieces. From traditional rim and Tiffany setting, nail-heads in prong style or hot fix and now, glues to attach rhinestones to leather. Make your own jewelry with our do-it-yourself base components found in the DIY Performance Jewelry & Accessories collection. Rely on the Crystalline Precision Glue Tools to cleanly and efficiently apply crystals and find a full selection of glues for every project material- including GEMGEL Adhesive for metals, plastic and other hard surfaces.
Light up the arena with help from our staff of seasoned industry veterans and 24/7 resources such as blog articles, exclusive professional grade tools of the trade, and the worldwide community of dedicated artists- just like you- that we've brought together over two decades of brilliance.