Posted by Rhinestones Unlimited on Nov 2nd 2020
Brand New Packaging & Assortment
CRYSTALPIXIE is both innovative and effortlessly simple. Consisting of tiny loose crystals easily applied for a sparkling finish, it breathes magic and mesmerizing crystal color into the captivating world of nail artistry. Launching with exciting new packaging as exquisite as the crystal itself, the new 2g and 5g bottles are sparkling shots of pure brilliance. The stunning faceted stoppers, designed to optimize the look of this luxurious offering, are reminiscent of re-imagined chess pieces. Mimicking the crystal cut within, you'll know exactly what you're playing with. In a further winning move, each bottle is nestled into a mirror-backed textured packaging, giving this game-changing beauty product a stage to shine.
Available in four crystal types: Petite, Edge and introducing new Bubble Medium and Bubble Large, as well as the exciting new color Gorgeous Gold, the relaunch of CRYSTALPIXIE ensures your next move will not go unnoticed.
Petite is a radiant range of tiny heavenly sparkling like starshine. Creating designs of intense radiance and subtle sparkle, CRYSTALPIXIE Petite turns nails into celestial stratospheres. From every day elegance to show-stopping style the assortment of colors, in uplifting hues, through to bold exotics and shimmering silver, illuminating creativity. Whether for full nail coverage or creatively combined with Edge, Bubble, or Swarovski Flat Backs, the effect is one of the continuous mesmerizing beauty, ensuring your manicure has maximum sparkle.
Captivating with a super-sharp bi-cone cut, Edge features hundred of unconventional and brilliantly eye-catching loose crystals with razor sharp style. Dazzling and delighting with its unique refraction the spiky crystal cut, featured on the stopper, creates on inspirational urban edge. Sharpen your moves with this bold nail direction. Wear alone or interchange with Petite, Bubble, or Swarovski Flat Backs to fashion myriad designs celebrating the true spirit of individuality.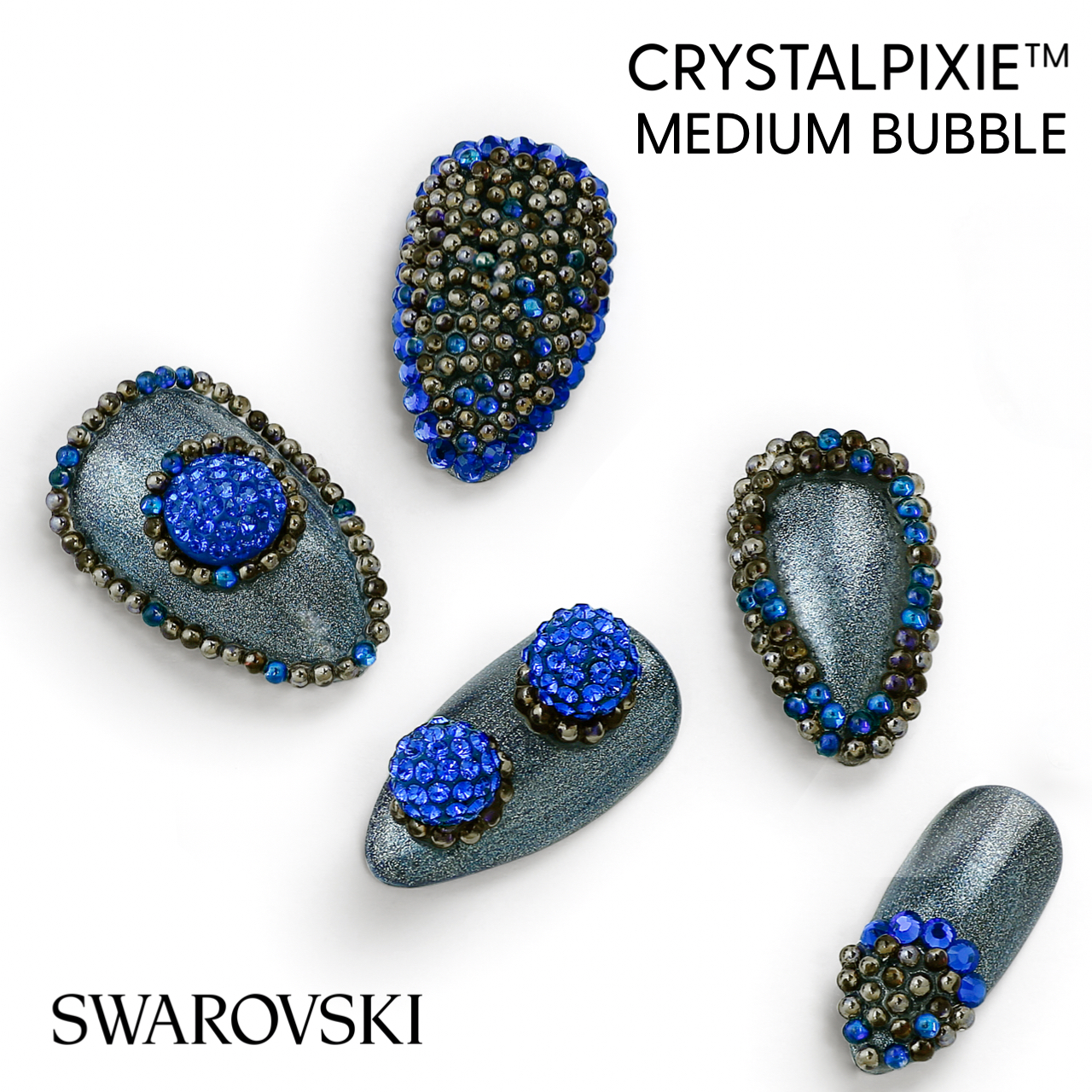 Let your inner artist shine with three captivating colors, future fantasy, Urban Kiss, & Street Star. CrystalPixie Bubble Medium leads the trend for glossy textures, made from non-facetted crystal balls in one medium size, the unexpected finish reconnects us with our sense of wonder in the bubble-capped bottle filled with delightful luminescence.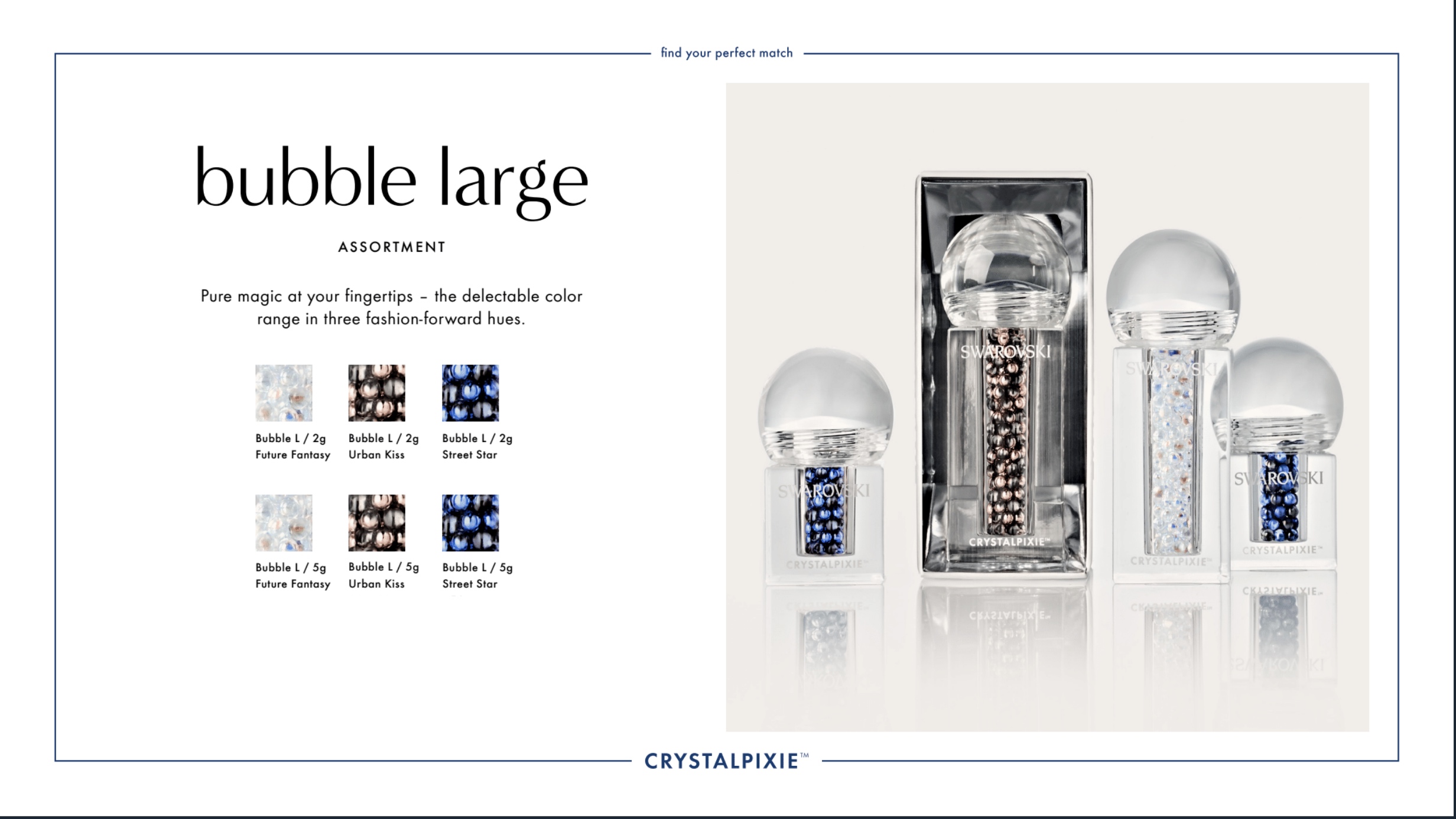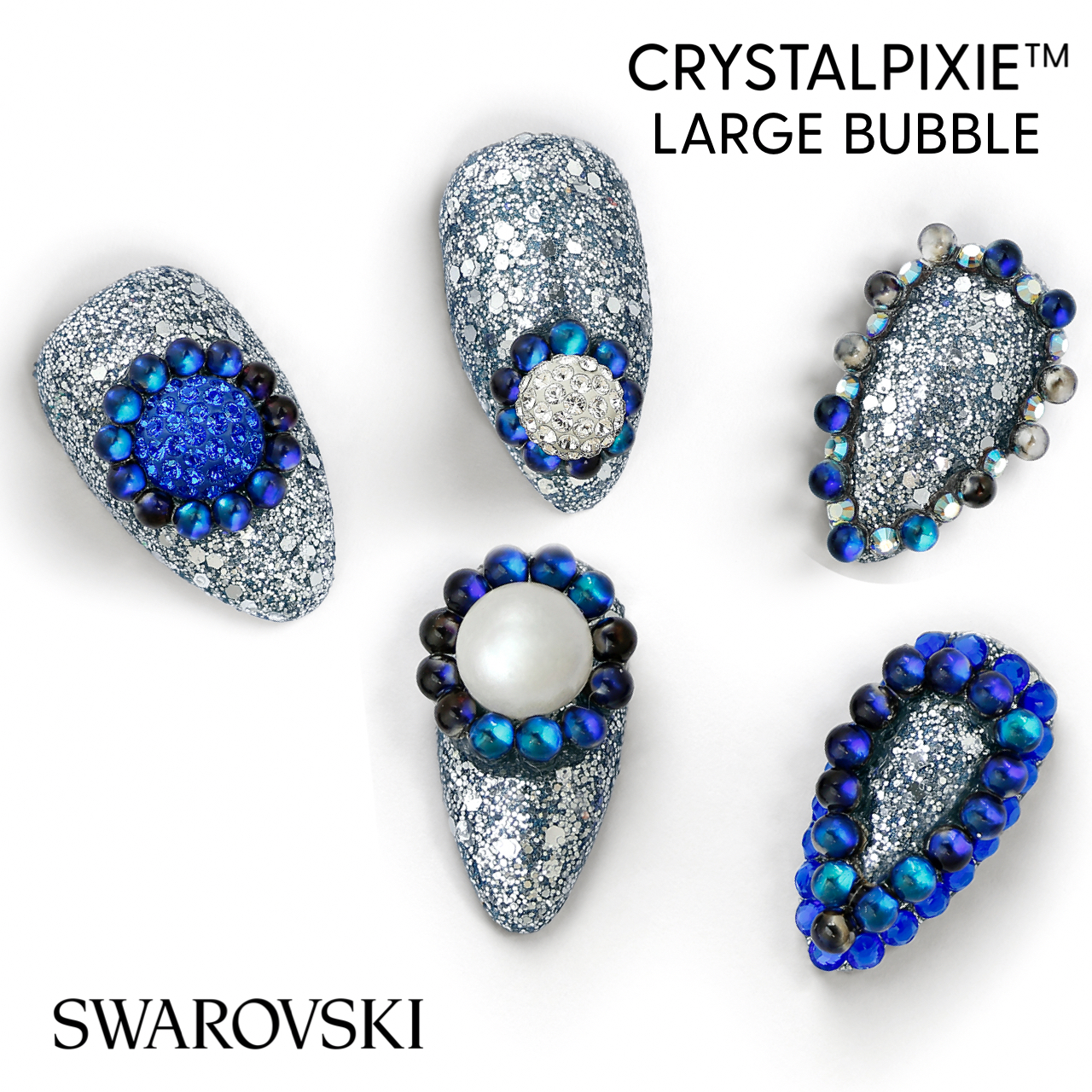 Encased in a dazzling bubble-top-bottle, Swarovski introduces Bubble Large for when you really need to stand out. Hundreds of perfectly spherical crystals embrace a bolder, more stimulating style. Modern and shimmering, these glowing crystals orbs dance on fingertips and toes creating a scintillating haptic sensation. Place singly for dramatic effect, or combined with Petite, Edge, or Swarovski Flat Backs for inspired nail art directions their simplicity highlights the very epitome of elegance.
Make a move and nail the beauty game. Remember to tag @RhinestonesUnlimited and @CrystalsForNails in all your Swarovski nail art.